Welcome to The Jewellery Quarter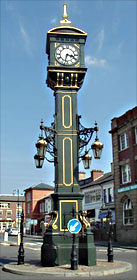 The Jewellery Quarter is home to over 100 specialist manufacturing and retail jewellery shops. With over 250 years of experienced goldsmith and jewellery making, The Jewellery quarter is most definitely worth visiting.
The Jewellery quarter has an abundance of shops to browse if you are looking for that special item, and if you still can't find what your looking for, there are some brilliant and well respected manufacturing jewellery shops that specialize in bespoke jewellery.
Amongst all the shops in the Jewellery quarter you will find many pubs, bars and restaurants dotted around the area that provide some of the best refreshments in Birmingham. There is also the serene surroundings of St Pauls square which is Birmingham's last remaining Georgian Square, brimming with award winning restaurants and bars.
For those of you who are visiting: The Museum of the Jewellery quarter, which is based in an old jewellery manufacturers, is great for finding out more information about how jewellery is made. There is also the Pen Room museum that will provide you with an in depth history into the Jewellery quarters reputation for pen production.
The Jewellery Quarter has its own self guided pavement trails that will unlock many secrets of the Jewellery quarters history, you will find out some very interesting facts including where the FA Cup was designed and made.